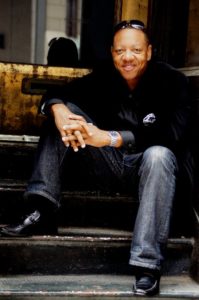 Art Terrell is widely known in Atlanta and across the country for his mesmerizing voice and captivating personality. Highly respected in the industry as not only an amazing on-air talent, but Art Terrell is also a community leader who has used his voice to make a positive impact on the city of Atlanta.
Terrell became a contributor to the Atlanta radio community beginning with an internship on WVEE-FM while attending Mays High School. While continuing his career at WVEE, he attended Georgia State University and hosted Atlanta's first hip-hop show, The Fresh Party. Art Terrell's resume also includes hosting the Morning Party – The Art Terrell and Felesha Love Show on WHTA, Co-Host and Co-Producer of the Ryan Cameron Morning Show on WHTA, and host of the Afternoon Drive on WALR Kiss 104.1. Terrell was most recently the host of WALR Kiss 104.1's Morning Groove alongside comedian Cory "Zooman" Miller and Toni Moore.
"Art Terrell is more than just a talent, he's a legend in the city and we couldn't be more proud to welcome him to the Smooth Jazz 101/100 family", says Greg Davis Jr, Vice President and Atlanta Market Manager of Davis Broadcasting of Atlanta.